Cam Newton – at one point considered the NFL's worst draft pick or an immature QB with a lot of growing up to do – has had an incredible, arguably groundbreaking, year.
He's lined up to be the Most Valuable Player for the 2015 NFL and is going to the Super Bowl to play against the great Peyton Manning.  Yet, even after taking his team to an impressive 15-1 season, he still has more haters than any Quarterback to reach this level of success in recent history. From being called a narcissist to a show-off, the insults fly towards Cam each time he hits the field.
Cam Newton represents a new age in the NFL. He's a player walking to the beat of his own drum and is doing it with an unapologetic and unwavering commitment to staying true to himself. And regardless of what the haters say, his fans, teammates, coaches, family and friends adore him.
But what's not often talked about is how Cam Newton can inspire young leaders and entrepreneurs. At just 26 years old, Cam Newton is an iconic representation of what it means to be Millenial at the top of their game. In his own way, he's showing the world a glimpse into what the millennial generation has in store for both sports and business.
From his commitment to excellence on the field to the way he carries himself off of it, there are a few things that Cam Newton can teach us about leadership.
Embrace Adversity Without Losing Momentum
Week after week in 2015, the Carolina Panthers were told they weren't a real 15-1 team. Furthermore, they were frequently finding themselves in situations in which they needed to deliver. In the image above, Odell Beckham, another millennial superstar in the NFL scores a touchdown and taunts the Panthers bench. The camera shows Cam Newton and how he responds with nothing more than a head nod and a determination to retaliate.
Unfortunately for Odell, Cam Newton was able to do exactly that and carry his team to the win with an impressive down.
Fuel Your Momentum With The Tears Of Haters
In 2011, Jim Folsom proclaimed that Cam Newton was the Worst NFL Draft Pick Ever.
Fast forward five years later and it's fair to suggest  that he's now eating his words.
"Too bad they don't make band-aids for feelings."
–@CameronNewtonhttps://t.co/gIJeFibFEG

— Beats By Dre (@beatsbydre) January 24, 2016
Celebrate Your Wins With The Team

Even Gary Vaynerchuk has gone on record to suggest that he struggles at celebrating victories. Cam Newton on the other hand, embraces it, celebrates it and encourages it.  At most companies, there are wins every single day. Yet, it's easy to get caught up so much in the process that you forget to take the time to celebrate.
The best leaders recognize that while big hairy and audacious goals are motivational; they don't get accomplished overnight. As a result, your team can become discouraged and lose their motivation if there aren't milestones and objectives along the way that they can celebrate.
Cam Newton celebrates after every field goal, touchdown and win.
You should do the same. 
Have Fun & Make It Infectious
Some people hate the idea of Cam Newton dancing at the end of the games but it's his way of having fun. But understand that life is far too short to get caught up worrying about a  little dance. You should be willing to have fun. In doing so it will translate across the entire organization and if you're like Cam:
Possibly a bit further…

Great People Surround Themselves With Great People
Jim Rohn once said, "You are the average of the 5 people you hang out with the most."
It's a pretty powerful and significant claim. It might not be backed in science but the premise around you are who you surround yourself with is an important statement. If you want to achieve great things, it's easier if you surround yourself with people striving to do the same or have done it. You can learn from one another, confide in one another and help one another achieve your goals.
The best leaders will understand this concept and surround themselves with great people.
Put The Team On Your Back, Get Hit, Get Up
Most Quarterbacks in the NFL are afraid to get hit and will often throw the ball away or do anything possible to avoid it. Cam Newton is a different type of Quarterback as he's willing to put it all on the line for the good of the team if it gives them a chance to win.
The best leaders are willing to put in the work and take a hit. The best leaders inspire their team by showing that they've got their back and are willing to get make a sacrifice for those around them.
Always Make Time To Give Back
From small interactions on the sidelines: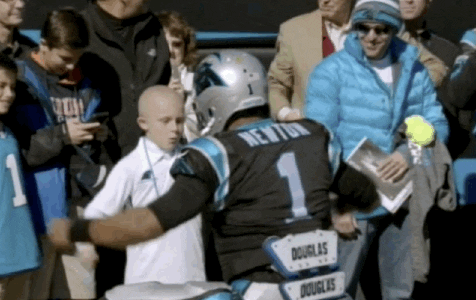 To making children's day by giving them a ball after each touchdown:
Cam Newton has demonstrated on and off the field that he really means it when he takes the time to help or inspire kids. He's visited hospitals, classrooms and has made it a team tradition to give away NFL footballs to kids whenever the Panthers score. And even when the officials try to stop him:

He finds a way…